Gina Callender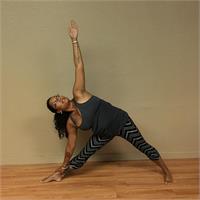 Gina, a 500 RYT, has been practicing yoga over the past 15 years, and completed the YogaWorks 200 hour teacher training in Westchester in March 2013. She has a 1st degree level Reiki Certification in the Usui Shiki Ryoho tradition and is looking to progress further in those studies. In 2014, Gina started her 500 hour OM yoga teacher training (YTT) with Cyndi Lee and recently completed that training in June 2015. This training included OM Meditation YTT levels 1 & 2, Pranayama YTT and Restorative YTT modules, as well as any additional 18 hours in anatomy with Jason Ray Brown. In February 2015, Gina completed 30 hours of Yin Yoga Teacher Training with Corina Benner. She is always looking to learn and is constantly taking workshops to better understand the practice and share what she learns with her students.
To Gina, yoga is a transformative philosophy that goes beyond asanas, or poses, that the Western world associates with "yoga". Yoga teaches us to slow down, be more conscious of our bodies and the world around us and can have huge physical and mental benefits when practices regularly. Some of these benefits include: lower blood pressure, more relaxed, greater flexibility and balance. Gina puts a heavy emphasis on the importance and benefits of Savasana, Yin and Restorative Yoga as a way to relax the parasympathetic nervous system.
Gina Callender is currently not instructing any classes.