Michelle Hough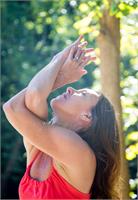 Michelle's teaching emphasizes yoga for the healing and integration of the whole person: mental, physical and spiritual.
A life-tested yoga teacher, spiritual coach and Ordained Interfaith Minister, she has experienced firsthand the healing power of yoga and spiritual practice. A former finance attorney, she knows the importance of creating and maintaining balance in all dimensions of one's life and relates well to working professionals striving to find equanimity. Her ongoing recovery from cranial nerve damage has inspired her deep interest in yoga for healing the nervous system.
Trained to share the gift of yoga through 200 hour Living Yoga Teacher Training (Liz Schulman/Richard Villella), multiple restorative workshops with Judith Lasater, ongoing anatomy training with Jason Ray Brown and therapeutic yoga through Subtle Yoga's 500 hour teacher training, Michelle would be honored to assist you on your journey of yoga.
Michelle Hough instructs the following:
This class is designed as an introduction to Vinyasa (flow) yoga. This class is suitable for beginner students as well as the more experienced practitioner. The goal of this class is to work at a mindful, flowing pace while exploring the alignment within poses during longer holdings, allowing students to develop a greater awareness of their bodies and minds, and to increase the flow of prana (energy) as well as strength throughout the body.