Heather Cummings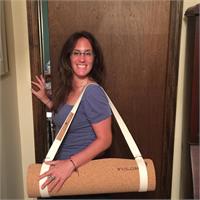 I discovered yoga in my early 20's and was reminded of how much of an impact it had on my life at that time. It wasn't until September of 2013 when I was going through some emotional struggles that I discovered the true path of yoga. It took one class to instill the inner peace that I had longed for. After a year of a solid daily practice, travelling to studios all over the Hudson Valley and beyond, and the influence of some really awesome teachers, I wanted to delve deeper into this beautiful practice called Yoga. I was fortunate to find the time and means to complete a 200 hour intensive one month training. I also hold a certification through the International Sports Sciences Association as a Certified Personal Trainer. Yoga has truly changed my life in so many wonderful ways and I am forever a practitioner. My goal is to share this beautiful, ever changing journey with YOU. Consistency and Balance is Key.
"The quieter you become, the more you can hear." –Ram Dass
Heather Cummings instructs the following:
In this class we will greet the day with a practice inspired by the morning Sadhana. A sadhana is simply a daily spiritual practice designed to allow oneself to turn inward and perceive life as it truly is.
Through a series of meditative Sun Salutations and light flow this class has a focus on intention, the Chakras and Pranayama (breath work) to create a moving meditation.
The instructor will offer gentle hands-on assists, personal modifications and a chance for each practitioner to gaze inward with an interest to connecting deeper with the infinity that is within each one of us.




Slow Flow Vinyasa Yoga allows beginners and seasonal yogis alike to create their own synchronized dance, while learning poses and how to move, breathe, and stretch between poses. Slow flow allows the practitioner time to evaluate how and when a pose should be modified, due to physical limitations or limitations in experience. The practitioner also has the time to mentally engage with the body, as it moves through a flow. The mind and body connection is one of the main goals when practicing Yoga. All levels of Yoga practitioners can find their personal challenges, as they slowly and mindfully move through a mellow flow. The pace may be slower, but challenges will be present with difficulties to work through. Slow Flow Vinyasa Yoga is a healing dance of moving meditation.