Kendra Rossney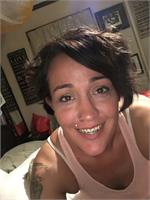 Kendra has been a yoga practitioner for the better part of 20 years. She received her Kripalu 200-Hour teacher certificate after taking an immersion training at the Kripalu Center in the beautiful Berkshires of Massachusetts. Starting at 5 years old, Kendra was exposed to and worked with energy healing under the guide and watchful eye of her Grandmother, Petra Valentine Negron. Kendra is also a Reiki Master. Having received her attunements in the Usui tradition and has been a Master practitioner for over 20 years. She incorporates Reiki into all of her yoga classes to cultivate a deeply relaxing experience during Savasana at the end of her class.
Her passions include singing, dancing, random out bursts of laughter, helping others, and her own journey toward compassionate self awareness. She is deeply in love her four children and her pitbull, Skylar, and knows how blessed she is to have such an amazing and supportive family.
Kendra holds a Masters of Business Administration with a concentration in Operations Management. Having been a Massage Therapist when she lived in Seattle, WA, she has a deep passion for body work and has experienced first hand all of the healing that can occur when we have the courage to go within.
Kendra's passions, professional experience, and formal education led her to this path and subsequent leap of faith. She hopes to bring to the community a safe, loving, and warm wellness center that is accessible and inviting. A community space that will allow people to embrace their authentic selves as they journey through this lifetime while offering them meaningful workshops, healing services, and diverse and fun classes.
Kendra Rossney instructs the following:



This class is designed as an introduction to Vinyasa (flow) yoga. This class is suitable for beginner students as well as the more experienced practitioner. The goal of this class is to work at a mindful, flowing pace while exploring the alignment within poses during longer holdings, allowing students to develop a greater awareness of their bodies and minds, and to increase the flow of prana (energy) as well as strength throughout the body.




Heading home from a long day at work? Want to bring the office home with you? NO?? Then this is the class for you! Come and leave the stress of your work day on your mat as you sink into your practice, sink into your inner-self, and sink into your wellness. Arrive home after this class ready to enjoy your post-work home life to its fullest!




"The air grows thin, the night is cold. I've come to hear the stories of old. I've come to remember, I've come to share, I've come to learn of yesteryear. The veil drops its guard and my senses heighten. The old ones are back, their goal to enlighten."

Come join us as we celebrate the lives of our ancestors, friends, and loved ones who have crossed over before us. Allow yourself to be blanketed in their wisdom during this time when the veil between our worlds is at its thinnest. Come in love and in honor of the amazing global community we have and allow our collective light to be a beacon of hope, compassion, and gratitude as the wheel of time draws us into this time of dark.

This is a FREE event and you are encouraged to bring something to place on the alter that you wish to have blessings upon. You are also encouraged and welcomed to bring a small dish or yummy treat to share.

PLEASE preregister as space is limited.




Come and dust off your mat for some quality time with YOU! This class is led by Kendra who will bring all the fundamentals of Kripalu Yoga and package it with some guided meditation to close out the 75 minute class.