Ingrid McKenzie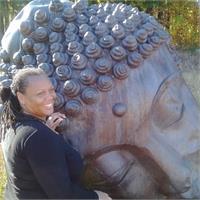 British born ex-pat turned yogi about 7 years ago. Graduate of Yoga Works TT program a year ago.
Whenever I come to the mat, I am changed for the better regardless of how I began. Yoga helps me to find and connect with myself and to be in that moment as a watcher, a seeker, a discoverer and a creator.
I practice to reconnect with my true self. My practice helps to ground me when I'm scattered and to uplift me when I'm feeling depleted. Working towards a state of balance in my body and on my mat, helps me to create space in my heart and bring balance into my life.
There is a saying from Shakespeare - "This above all to thine own self, be true". It has always stuck with me from when I first heard it in school some thirty + years ago. As an older yogi I am learning more and more to appreciate the art of letting go, keeping things simple and growing older with grace. At the same time, yoga keeps me young at heart, remembering to find humor in myself and to not always take myself so seriously.
It is a privilege and an honor to be given this role as teacher and it is my hope that others may be able to discover their own story and their own truth during their practice.
Ingrid McKenzie instructs the following:
In this class we will greet the day with a practice inspired by the morning Sadhana. A sadhana is simply a daily spiritual practice designed to allow oneself to turn inward and perceive life as it truly is.
Through a series of meditative Sun Salutations and light flow this class has a focus on intention, the Chakras and Pranayama (breath work) to create a moving meditation.
The instructor will offer gentle hands-on assists, personal modifications and a chance for each practitioner to gaze inward with an interest to connecting deeper with the infinity that is within each one of us.




Do you have a good understanding of basic yoga postures? Do you want to explore a wider variety of poses and styles? If the answer is yes, then this 75 minute class is for you! You will build endurance, flexibility and strength through a challenging dynamic flow where you will integrate movement and breath with classical and creatively-adapted sun salutations, twists, binds, back-bends, and inversions. A strong foundation in yoga is recommended along with a knowledge of your own limitations.