Jennifer Gomez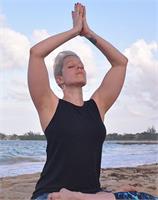 Jenn has been practicing and enjoying the benefits of hatha and vinyasa flow yoga, including
Ashtanga and Anusara yoga styles for over 11 years. Long before Jenn stepped onto a yoga mat, she was actively involved in acrobatics, gymnastics, and dance.
Jenn received her 200-hour yoga teaching certification in 2011 from Lotus Gardens Yoga
School in Sherman, CT under the direction of Lara Azzarito-Ward. Jenn is thrilled to be part of the yoga teaching community and enjoys exploring and interweaving various yoga styles in class as well as in her own practice. Jenn believes that there's a yoga practice for everyone – yoga is just that eclectic.
Her warm and welcoming personality is both inviting and supportive to all the students who seek to learn from her deep understanding of yoga and healing. She is a dynamic and passionate instructor who draws from her experience, her heart, and her love to facilitate deep self-exploration for all who learn from her.
Jennifer Gomez instructs the following:
Do you have a good understanding of basic yoga postures? Do you want to explore a wider variety of poses and styles? If the answer is yes, then this 75 minute class is for you! You will build endurance, flexibility and strength through a challenging dynamic flow where you will integrate movement and breath with classical and creatively-adapted sun salutations, twists, binds, back-bends, and inversions. A strong foundation in yoga is recommended along with a knowledge of your own limitations.




This class is ideal for those aspiring Yogi's who are beginning or restarting their Yoga practice or for the advanced practitioner who wants to "get back to the basics" of their Yoga practice. Come and explore Yoga in this fun and creative class, designed to leave you feeling OMazing!




In this class we will greet the day with a practice inspired by the morning Sadhana. A sadhana is simply a daily spiritual practice designed to allow oneself to turn inward and perceive life as it truly is.
Through a series of meditative Sun Salutations and light flow this class has a focus on intention, the Chakras and Pranayama (breath work) to create a moving meditation.
The instructor will offer gentle hands-on assists, personal modifications and a chance for each practitioner to gaze inward with an interest to connecting deeper with the infinity that is within each one of us.